Hi,
Our Dynax anti-corrosion cavity wax range has been a big hit with our customers.
We offer three products in this range – Dynax-UB, Dynax-UC and Dynax-s50.
The range offers a sulphonate rich waxy film which provides unparalleled protection to car underbodies.
Unlike traditional paints and coatings these molecules are not bothered by corrosion products and so do not fail when applied to pre-rusted surfaces.
Available in both soft-film and tough touch-dry films Dynax waxes range in colour from black to clear. Dynax films can be removed by solvent wiping if required and do not harm painted surfaces.
Dynax-S50 is a very high performance anti-corrosion wax that provides exeptionally long-lasting protection to steel surfaces.
It creeps into welded seams and seals surface defects. It forms a soft, brown, wax-like film that self-heals in the event of disruption.
Dynax-S50 is also able to arrest existing corrosion and provide long-term protection to both heavily corroded and corrosion-free surfaces.
Dynax-S50 is so effective and versitile that it has been used with superb results to protect voids and cavities in steel boats, vessels, off shore installations and other steel structures subject to severely corrosive atmospheres.
It's packed in conveniently large 750ml aerosols with an injection lance – also available in 1 litre, 5 litres and bulk.
Dynax-S50 has been proven to substantially outperform competitors cavity waxes in salt-spray trials under conditions of ASTM B117. Here are the results:
1 = Acclaimed Swedish Cavity Wax shows high degree of failure.
2 = UK's leading anti corrosion wax shows total failure.
3 = The final picture in the series below shows dynax S50 protected metal is still in exceptional condition.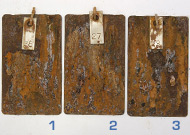 These standardised test panels have been removed from an ASTM B-117 hot salt spray trial after an extremely aggressive 2000 hours – the rear of the panels show that the steel left unprotected is almost corroded through.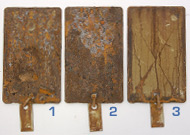 The panel fronts as removed are difficult to asses as corrosion streaks and marks are left as during the test the unprotected panel edges allow corrosion deposits to pour down the vertically positioned panels.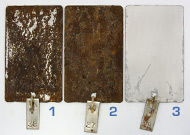 After solvent washing the panel fronts any remaining waxy film is removed, allowing inspection of the underlying surface. Assessment of the product performance is then easy. I'm sure you can decide which panel one looks best! The pressurised giant-sized Dynax-S50 aerosol dispenser accepts interchangeable heads: The 60cm cavity injection lance has a precision fluid-tip to deliver at high-pressure, a dense, finely atomised circular mist of Dynax-S50, ensuring 360 degree coverage of box sections and cavities. See image below –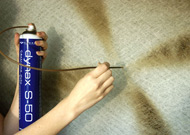 As you can see from the salt-spray test demonstration, Dynax-S50 clearly outperforms other highly rated cavity waxes. Infact, after much testing Dynax-S50 was presented with the best cavity wax accolade from University of Hertfordshire – School of Engineering and Technology. The graphic below shows Dynax-S500 treated on half a metal panel after 2084 hours in the salt spray chamber. We competed with six other rated cavity waxes in this extensive test, including brands such as Robuster, Hammerite and Mike Sanders.

Thank you for reading, and we hope to be hearing from you soon.

Kind regards,
Max Johnson